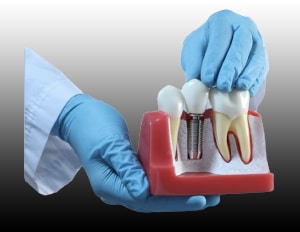 "If you're looking to replace multiple teeth, but want to
save as many of your existing teeth

as possible

, Dr. Kurpis is the Implant Dentist you want to visit."
Dental Implants Combined with Existing Teeth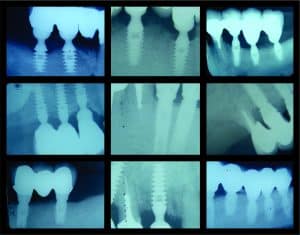 There are many situations where a patient might want to save their remaining natural teeth and not have them extracted. Natural teeth support the muscle attachments of the lips and face. Removal of natural teeth might therefore result in a permanent distortion of the lips or face. Loss of anterior (front) natural teeth can also occasionally cause changes in one's speech. Whenever it is possible, remaining strong teeth roots should be saved by combining them with dental implants for additional support and stability. In cases involving loose teeth as a result of periodontal disease, adding strategically placed dental implants can remove some of the bite pressure off these teeth. This can possibly help remaining teeth last much longer in the mouth.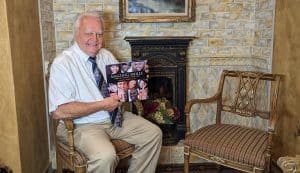 Although the dental literature reports that this is not possible,
I can tell you with certainty
that this procedure can, in fact, be successful. I have successfully connected dental implants to thousands of natural teeth for over forty-five years. The key to the success of this procedure is based on an understanding of dental forces of mastication (chewing) and the dynamics of occlusion (how teeth meet and work with each other) and how they both play a significant role in how an individual's mouth functions. These factors, combined with a correct diagnosis and a unique custom prosthetic treatment plan and case design, can lead to a
predictable and successful result.
Combining dental implants with natural teeth is best performed by an implant dentist who has vast experience with the principles of advanced prosthodontics and has knowledge of how to design these unique dental implant-teeth bridges. There are certain conditions whereby saving teeth and combining them with dental implants are not only possible, but is critical. The classic situation often encountered is where a patient is missing upper or lower, posterior (back) teeth, while having a high or low lip line which shows natural gum tissue when they smile. In this situation, if the upper or lower front teeth are removed, the natural gum tissue will recede and be permanently lost. As a result, a normal looking smile can never be re-created exactly as it was before the teeth were removed. Not only does this cause a physical deformity, but for many individuals there is psychological suffering, as well. Although there are restorative techniques available for replacing missing teeth with pink porcelain to simulate lost gum tissue, it never looks the same as the original gum tissue found around natural teeth. Although implant-supported bridges can provide excellent function for eating and chewing, some patients say that their bite never feels the same as when they had their natural teeth.
Request Your Free Dental Implant Consultation and Free X-Ray with The Implant Dentist by calling 201-447-9700 or filling out the form below


WHY CHOOSE
THE IMPLANT DENTIST,
DR. KURPIS?
EXPERIENCE:
Dr. Kurpis has placed OVER 5,000 DENTAL IMPLANTS in his 49 year career of surgically placing dental implants! He is one of the original pioneers in Implant Dentistry, conducting research on the development of dental implants and teaching dental implant dentistry to dentists at Columbia University School of Dental Medicine. Placing dental implants is just the beginning of your journey to achieving a great, natural looking smile. His vast experience building beautiful smiles culminated in his publication of the cosmetic book "Amazing Smiles Through Cosmetic Dentistry."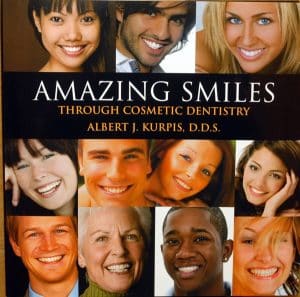 This book serves as a cosmetic reference for both dentists and patients worldwide to help understand the endless possibilities of cosmetic dental restorations.
QUALITY:
We use the strongest, natural looking Zirconia, No PPMA, No Composites, No Acrylic, to create a solution that's meant to last! Zirconia porcelain teeth are the industry gold standard for implant supported teeth giving patients the confidence of knowing that their dental restorations will last as long as possible. 
TALENT:
Dr. Kurpis, as an artist, combines his unique talent with the science of advanced dentistry to enhance your face, creating smiles that often make you look younger.
AMAZING REVIEWS:
When doing your research, you will find Dr. Kurpis is one of the best reviewed Implant Dentists in the country and has been for over 45 years!

VALUE:
When you combine experience, the highest quality porcelain zirconia teeth, and affordable fair fees for his dental implants, it's hard to find a better value for your dental implant teeth replacement.
At our Dental Implant center, we perform all necessary services under one roof. We want prospective patients to know that we are not a corporate owned dental business franchise, but actually an individual dentist owned advanced dental implant center. We are not driven by corporate profit motivation, but by passion for exceptional service and custom results. Dr. Kurpis, a pioneer in dental implants, was granted a patent by the US Government for the dental implant in 1988. He is one of the only dental implant dentists in the country who has been placing dental implants for over 45 years!